I wanted to share a technique my firm has used for the past decade to drive substantial improvement in converting website traffic into revenue. We have been able to prove this prospect engagement process out over a variety of different industries in both B2B and B2C enterprises. We developed this approach to solve a huge issue every single company we met struggled with: Lots of traffic – very little conversion.
Here is just a little example of some of the results our clients have been able to achieve using this approach are:
80% increase in qualified leads through the web globally (measured by calls to live sales agents). The only thing we measured was calls and inquiries to live agents so that it was directly linked to sales and not "false positives" like website registrations and other questionable lead gen measurements. The process we deployed involved 12 unique global sites in 7 different languages and ended up representing 50% of the total qualified sales leads globally and at a cost of 15% of the total marketing spend for lead gen.
$200K revenue in first quarter from zero revenue the year before (measured by web orders). Focused on three key audiences instead of 10 and designed the entire site around an option-based engagement process. Other results when combined with SEO/SEM were a 300% increase in traffic and a max of 4 clicks to delivering customer fulfillment.
So how did we manage to achieve this?
Well, its a synchronization of several factors that is all based on a single, ultra-powerful principle for human relationships: Everyone, without exception, makes decisions based on emotion which is then justified by logic.
Once you understand (and accept) this principle, you need to begin to develop ways to reach your customers emotionally on both a conscious and subconscious level. As human beings, we are constantly being emotionally influenced at a subconscious level by everything and everyone around us and our brains are designed to process this information subconsciously so as not to overwhelm us. The result is a complex set of behaviors, perceptions and belief systems that governs our decisions on a constant basis- all governed by emotions and justified by logic.
So now that we have identified what to do (and why to do it), let me share the "how to do it"  in 3 straight forward steps and lets start with a visual to help understand what it looks like.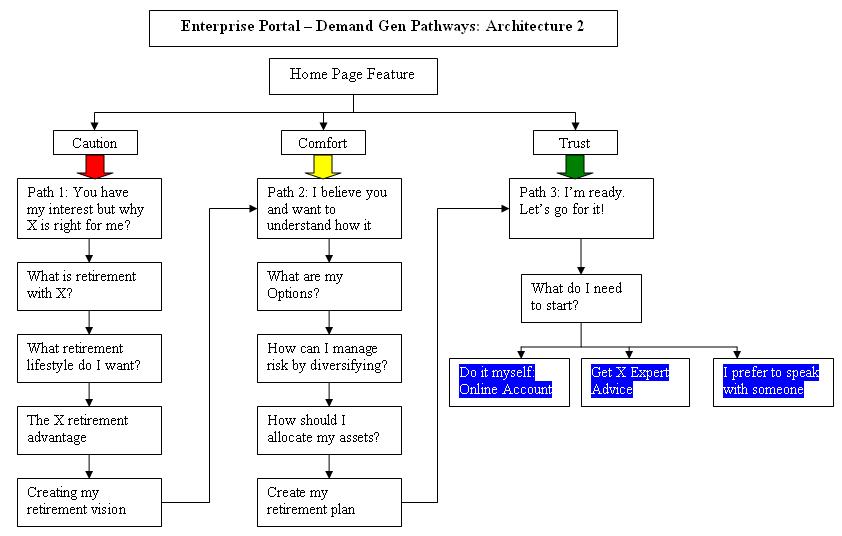 (Click to enlarge the image if its difficult to read)
Allow me to briefly explain the example above. This is based on a Fortune 500 client we worked with in the US  financial services sector in partnership with an ad agency to target 4 distinct consumer segments.
We identified 3 unique pathways that meet the need of all 4 segments and aligned both the emotional process and logical process with their potential emotional states represented by the Caution – Comfort – Trust along the top of the diagram.
The demand generation process took the form of a Flash-based interactive presentation that used audio/video to engage the audience. This was embedded on the home page and targeted at specific segments.
They entered the process depending on their emotional state (caution, comfort or trust) which was aligned with corresponding logical milestones of: interest – propensity to buy – buy.
The process was designed in two seamlessly integrated layers: the emotional layer and the logical layer that advanced them through the engagement process in a natural, familiar and simple way to the end result of some form of commitment (the blue calls to action).
The graphics, audio/video and content were also designed to advance the audience through different emotional states by using imagery and wording that focused on building ongoing rapport and reinforced each step in front of it.
The calls to action were designed specifically to present 3 options each corresponding to 3 commitment behaviors from "Do-it-yourselfers" to "Do it for me" to "I need time but I will be back".
Regardless of the commitment, the customer was given valuable take-aways such as a retirement vision document or a retirement plan document. By giving away value without asking for commitment, we actually greatly improved engagement. At every step it was on their terms.
Using this example, here is a simple and high level way for you to begin to leverage this technique for your enterprise website. In fact, it is possible to deploy several of these demand gen processes throughout an enterprise site; each one potentially targeting a different stage of emotional commitment or different product or service.
Step 1: Understand the customer's emotional and logical decision making process.
This is a research based approach and relies on both internal knowledge of your market, but also customer research to identify emotional triggers and processes for each segment you are going to target. It doesn't require extensive research, but for this to work, you need to understand the emotional needs of your customers.
Once you have identified emotional needs, preferences and how emotions affect their decisions, you need to map it out and overlay the logical validation (selling) process over it to form a framework. This can be a linear process, a closed loop, or any other various processes that fit the needs of your customers; not you. Very important point.
.
Step 2: Design the content, imagery, and engagement process to meet emotional need
Create a design plan for the process that maps out and evolves the emotional experience as they progress through your framework including:

Emotional architecture and triggers
Delivery method – Flash, mobile, html, web application, etc…
Engagement method – guided tour, do it yourself, interview style, quiz/game show style, etc…
Content – A/V, imagery, messaging and copy

The obvious story boarding and audience testing should be done.
Compare the testing results back to your research and key assumptions on emotional need and fulfillment. Identify gaps in the process and adapt to create an end-to-end experience
.
Step 3: Integrate the demand generation process into the corporate website and other engagement tactics.
This is probably the most difficult part, making sure its integrated properly into your website, marketing tactics and channels (social media, email, events, retail, etc..) and sales (live agents, experts, lead capture, etc.)
The key is to not over complicate things by trying to do too much for too many people.

Focus on a specific audience and a specific ask; wrap the entire demand gen process around that
Embed the beginning of the process on the home page as a feature and create "doorways" from other parts of the website that correspond to different emotional states (caution – comfort – trust)
Integrate other ways for them to develop a relationship with your brand into the process so that if they leave prematurely or have preferences for continued dialogue they can continue easily; this includes linking to your customer communities, social media, email, retail channels and events primarily.
Integrate with your sales, retail and relationship development services to allow immediate follow-through for potential customers.
Filling out a form or buying online just does not satisfy many people and does nothing for emotional fulfillment. It is an option and should be included, but always allow for human-to-human contact with your brand.
Give them plenty of take-aways and the ability to share it with others. Also allow them to come back to the point they left; never make them go through it again. Simple functions like "remember me" or profiles are an easy way to deliver on this.
Most importantly, allow them to come and go as they please – soft sell throughout and present options to commit in simple ways.
.
Want to try this? Start small and build on your successes

If this is something you want to try then I encourage you to start small for the first couple tries. Focus it on a single audience you know well and a single product or service you want to drive demand on. Keep the process manageable and the implementation simple; tie it to one sales channel, 2 tactics, and access only from the home page.
As you get more comfortable build it out to include several other related products (a great way to market to current customers by the way) or to another similar audience. Just make sure you don't rush ahead and try to do too much. The secret to this working is the ability to keep it simple for the customer and focused on their needs.
Measurement is key and we have always kept that dead simple as well. The easiest measurement is traffic through the demand generation process and commitment stats (online, retail, and sales). Tracking back to sales and revenue is vital and this will ensure senior executives continue to support the program. The great thing here is that Social Media becomes an integral part of ongoing prospect nurturing and becomes much easier to track and measure actual revenue against.
I'd love to hear your thoughts on this and connect with anyone who is looking to try it. I'm always willing to give advice and help others use what our clients have used so successfully over the past ten years.
Cheers!
Jeff – Sensei