By now, everyone is talking about how Nestle screwed up on Facebook. I am not going to bore you with the same tripe that everyone else is spewing out about the situation. Yes they screwed up, now move on about it. Instead in true Mountain Top fashion, I am going to look at it from two different perspectives; one Pro Nestle (tied back to Risk Mitigation) and one Pro Consumer (tied back to understanding online human behaviour).
This post will deal with the Pro Nestle perspective and tie it directly to Risk Mitigation within Social Media environments.
The Risk for Large Enterprise in Social Media Environments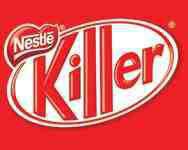 As I watched the Nestle situation unfold, I immediately thought about risk to their brand and the impact that a lack of risk management was having on them. The kerfuffle started over Green Peace UK attacking Nestle online for buying Palm Oil from a company that was destroying orangutan habitat in Indonesia. The catalyst or spark that ignited the wild fire was the use of the KitKat logo (to the right). A clever and effective tool to get a rise out of Nestle and it worked. Very well.
Understanding that situation requires us to look at how risk is different in Social Media environments which requires a different kind of risk planning.
Large Enterprise is exceptionally vulnerable in public Social Media environments but they typically think the opposite. You are a target now susceptible to attacks from every individual and organization that doesn't like you. The difference here is every action around a volatile situation is on display for the world to see, and they are watching. How Large Enterprise perceives itself is critical to reducing vulnerability.
Exposure = Risk. Depending on where you go, your level of exposure to risk changes, thus the level of risk changes. Open public forums like FaceBook have the most exposure thus have the highest risk. Twitter has less exposure, You Tube less than that, and blogs least of all. Managing exposure is another key ingredient to understanding and managing risk.
Predators are everywhere. As a large enterprise you have enemies of all shapes and sizes. They are all online. This is unique to online environments like Social Media where two way conversations are expected. Your natural enemies know this and will take advantage of it every chance they can get. Know who your enemies are and understand what they are capable of.
It only takes a spark to start a wildfire. Within 10 hours, the situation with Nestle spiraled out of control, hit the news media, was picked up by blogs and their fan membership on Facebook raced to 91K all for the wrongs reasons. One spark, the way the Nestle rep handled the public on FaceBook, ignited a wildfire they could no longer control. In Social Media environments, risk to your brand is immediate and far reaching.
.
What is Risk Mitigation for Social Media Environments
Ideally, it is an integral part of a well thought out strategy and approach to going social with your customers and the public.  The risk planning portion should have the following components.
Understanding of who you are in the big picture. Without question, Large Enterprise believe they are the big fish in the pond wherever they go and whatever they do. Not in Social Media. Understanding is the self-analysis leadership needs to do to recognize who they are and their place in Social Media environments. You are prey, not predators. This mean designing a completely different approach and experience than you are used to delivering.
Risk Planning Scenarios. Once you have identified all of your potential vulnerabilities and predators. You need to scenario plan around them. It doesn't need to be extravagant or complex because the implementation of risk planning relies on the capabilities of your front line people. Develop general cases for evaluating and managing risk that can be applied to multiple types of situations.
Design a Vigilance Process. This is all about teaching your people to recognize the early warning signs of risk and giving them guidelines to manage it and public engagement rules for dealing with it immediately. This gives you time to properly apply resources and escalate your response to control the situation. Don't go nuts, simple elegant, powerful processes are always the best for everyone involved.
Get the Right People. Having the right people in Social Media is critical to your success. Their aptitude should be open, approachable, friendly, understanding and patient. In hostile situations, it should add helpful. Being armed with questions or techniques to disarm predators or delay the risk in a situation is key. No knee jerk reactions, no retaliation, no low blows. Lastly, asking good, probing questions to define the situation and understand their point of view becomes an important factor in risk management and escalation.
The Value of Risk Mitigation for Large Enterprise Social Media
Before we talk about the value, let's look at the cost of not having a risk mitigation plan in place. Nestle was hit hard not just from a "Brand perception" point of view but also in the stock market. That's real. That's bottom line impact and measurable. If anything, my hope is that this hard fought experience for Nestle will help them realize how potent Social Media can be.
The value if Risk Mitigation can deliver the opposite effect. If it can impact stock prices negatively, it can impact them positively. Imagine if they had rolled out a well managed plan that turned that situation positive and made Green Peace look impotent? Could that have driven investor confidence? Sure it can.
More importantly, the sustainable impact to brand perception can only be improved by applying a risk mitigated approach to dealing with the public. The unique factor is that you have to do this within a two way forum on the open world stage. You have the chance to convert customers into evangelists and enemies into friends, or at the very least make enemies impotent. A win either way.
In the end, risk mitigation makes you a tough target. No predator, human or animal, likes tough targets so the natural inclination will be to move on. Predators look for weakness and when they find it, the exploit it ferociously. Adopt risk mitigation in your approach and make yourself a tough target. There is no downside.